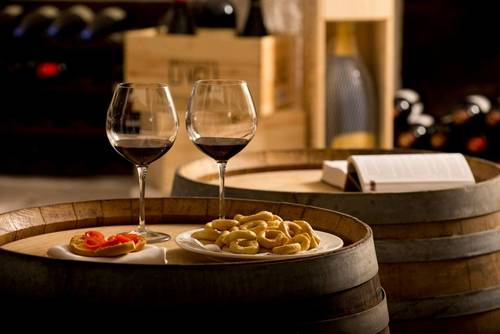 A highlight of any holiday is always the incredible food and wine you are able to sample, so why not choose to stay in a hotel which produces incredible wine right next door?
A highlight of any holiday is always the incredible food and wine you are able to sample, so why not choose to stay in a hotel which produces incredible wine right next door? Whether you are want to enjoy long walks through the picturesque vineyards or to taste every variety of wine cultivated at zero miles we have the perfect choices for you. The only decision you have to make is whether you visit Italy or Portugal…
WINE HOLIDAYS IN ITALY
1. Conti Di San Bonifacio, located near Gavorrano, in Tuscany, Italy
The owners of the Conti Di San Bonifacio, Count Manfredo and his wife fell in love with each other at the same time as falling in love with Tuscany itself. You can really feel this spirit resonating when you visit this romantic and intimate wine hotel, which has just 7 luxury rooms. They acquired the estate, and vines were planted a decade ago, nestled between the Maremma hills and the coastal plains of the Tuscan coast. Their philosophy is simple: strive for absolute, unrelenting quality throughout every phase of the wine-making process. This means that they put the utmost passion and authenticity into all of their wines: the Moteregio, the Docet and the Sustinet for the reds and for the whites a Pinot Grigio, a Grappa and a Prosecco from their native Veneto. Each wine is steeped in family tradition, and you can almost taste the hard work that has gone into producing these sublime wines. The restaurant here serves the finest Tuscan cuisine.               
2. Tenuta Casteani, located near Gavorrano, in Tuscany, Italy
Also, in the Tuscan countryside right next door to the beautiful Conti Di San Bonifacio, is the picturesque Tenuta Casteani Country Farmhouse of Maremma. It has now been converted into a charmingly authentic hotel offering a taste of true Tuscan hospitality. Its winery is split on to two levels, with the process of vinification taking place on the lower levels in stainless steel tanks, aging barrels, barriques and earthenware jars. Tenuta Casteani prides itself on its sustainability. The winery is right in front of the vineyards which occupy 14 hectares of land, so as the grapes are harvested they are taken straight to be worked on to avoid trauma and premature fermentation. The vineyards are also divided into two, with the first half being planted in 2004 for a total of 10 hectares and the second planted in 2012 with an extension of 4 hectares from which they cultivate vines such as Sangiovese, Alicante, Il Vermentino and Aleatico as well as international varieties such as Syrah, Merlot and Viogner.                                         
3. Santa Anastasia, located near Cefalu on Sicily, Italy
Nestled between the sea and the mountains, lies this former Benedictine abbey. Monks resided here in the twelfth century and started production of the wine which was in high demand by the Sicilian barons and bishops of the time. Today, it is an elegant agritourism hotel with a large swimming pool and beautiful views over the vineyards. In terms of wine production, they have also moved with the times and now use biodynamic methods. This way of production fully respects the natural quality of the grapes and wines, without using any additives or synthetic substances. They cultivate around 65 hectares of their vines and age it through steel, vitrified glass-lined cement and wood, to finally produce five collections of wines. The bonus is that when you stay at Santa Anastasia, you will never forgot your room number as each room is named after a variety of grape.
4. La Foresteria, located near Menfi on Sicily, Italy
This intimate hotel is set amongst vineyards that stretch all the way to the sea, in an elevated spot. Its peachy-pink walls house a masterpiece of contemporary design, with Moorish touches of peaceful inner courtyards and fragrant herb gardens. Try a wine tasting at sunset whilst enjoying the stunning views from the terraces. A highlight is the beautiful infinity pool and the delicious cuisine, prepared by the inventive chef. This is the perfect choice for a full-on gourmet experience in a lovely setting.                                   
WINE HOLIDAYS IN PORTUGAL
1. Torre De Palma, located near Monforte, in Alentejo, Portugal
The five-star Torre De Palma is devoted to Alentejo wine. It is a superb boutique hotel offering luxury accommodation and a wonderful wine experience. The estate is located in the heart of the wine region of Monforte, Alentejo. The climate is perfect for their vines and creates the ideal combination to produce unique wines, in harmony with nature. Carefully blended with a number of indigenous varieties of grapes such as Alicante Bouschet, Aragonez, Touriga Nacional and Tinta Miuda for reds, or Arinto, Antao Vaz and Alvarinho for their white wines. At the Torre De Palma you can take part in wine tasting and view the wine production.
2. Vintage House, located near Pinhao, in Porto, Portugal
Along the riverside, in the authentic heart of the Douro Valley's demarcated wine region, lies the Vintage House Hotel. It is an elegantly restored boutique hotel with luxurious rooms and a beautiful swimming pool. Listed as a World Heritage Site by UNESCO, the Douro Valley is well known for its port wine and has roughly 40,000 hectares full of vines. This region is almost certainly the oldest official demarcated region for wine in the world, so take the time to admire the scenery whilst taking part in a port wine tasting with a sommelier. Alternatively, sign up to a wine course at the hotel's wine academy and find out more about the world's most popular drink.
3. The Yeatman, located in Porto, Portugal
A luxury wine hotel, The Yeatman sits in an elevated position overlooking the city of Porto in 7 acres of land. It is set in beautiful landscaped gardens and boasts two stunning panoramic infinity pools and a sumptuous spa. Porto is the city which gave its name to Portugal's famous port, and as one of Europe's leading wine hotels, the Yeatman is a haven for wine lovers. Although they don't produce wine themselves, the cellars of the Yeatman house the most comprehensive collection of Portuguese wines you will ever see. It has established partnerships with many of Portugal's finest wine producers. They host comprehensive programmes to stimulate your senses and give you the opportunity to appreciate the rich and varied culture of the local wines. Even the spa makes use of this theme, using vine extracts in their treatments and in their products. The Yeatman is really something special and unique!
4. Quinta da Pacheca, located near Cambres in Porto, Portugal
Set on the sleepy banks of the Douro Valley, Quinta da Pacheca is one of the best-known estates in the Douro region and was also one of the first properties to bottle wine under its own label. This intimate hotel has just 15 rooms and is the perfect place from which to explore the surrounding countryside. The British have always played a big role in the production of wine here and still do today. Most of the wineries in the area of the Douro Valley are British-owned, so you can really feel an affinity with this beautiful region. This Quinta offers cookery classes as well as wine experiences, and its restaurant is first class. It also offers some innovative wine experiences: you can literally sleep in wine barrels! Can you image yourself waking up in the middle of a vineyard, having spent the night in a wine barrel? You don't get a more wine-focused experience than that!
                                            
We hope we have inspired you to consider a holiday in a wine hotel. If you want some help deciding between these wonderful destinations, do feel free to call us on 01694 722193 or request a callback from one of our Travel Specialists.

They will be happy to provide advice and recommendations based on first-hand experience.
Alternatively, you may want to be inspired by our range of food and drink holidays combining wine and gastronomic experiences.