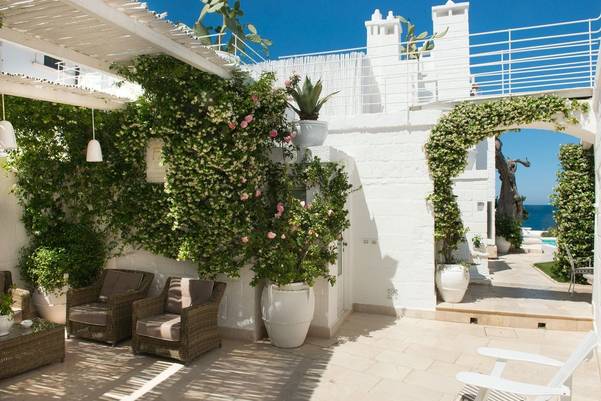 Paul never tires of visiting Italy and is keen to share his Puglia holiday experiences with us.
Day 1
"Landing in Bari late Monday morning, I picked up my Fiat 500 and headed straight to Basilicata to drop off my bags at the Hotel In Pietra. This was the beginning of my Italian adventure, as I started exploring the quaint little town of Matera. This charming city, in Basilicata, the region neighbouring Puglia, is known as the subterranean city, with dwellings quite literally built into the cliffs.

Whenever I visit Matera, I always like to take a walk down the Piazzo Duomo road and take in the sight of the spectacular Cathedral di Maria SS. I can hear kestrels chattering away from the rooftops as I walk by."

Day 2
"The next day I make my way to Avetrana to visit Masseria Strazzati & Bosco for a catch up with Pierangela – the owner. I love the way that this property is surrounded by lush greenery. They even have their own little family of tortoise living in a purpose-built pond. Pierangela recommended most delicious seafood restaurant I have ever been to at the Posto 9 beach. Tucked away and surrounded by white wooden structures, it is very intimate and unconventional, with the curtains billowing in the salty air. I visited during the afternoon, but I can just imagine how great an evening would be on the terrace at Posto 9 Beach!

That evening I headed for Martano, home to one of our favourite properties here at Long Travel 'Borgo Naturalis'. It's impossible to imagine a more relaxing setting for a holiday in Puglia! The Borgo Naturalis is surrounded by fields and open spaces shaded only by olive trees. I was lucky enough to indulge in a little spa time, where I made full use of their heated indoor whirlpool and outdoor saltwater infinity pool. It's times like this that I really do love my job!"

Day 3
"The next day, I travelled north to stay at one of our trulli houses for a few days. I remain, as ever, in awe of our trulli houses and self-catering villas and feel a sense of being at home when I visit. Trullo Noce still stands as my firm favourite from our exclusive collection, for its romantic elegance and its own secluded outdoor shower! (There's one inside too of course!) With the countryside in full bloom surrounding the trulli houses, every angle looks picture perfect and the pool offered some respite from the sizzling Italian sunshine.

You can walk to a small selection of restaurants from the trulli but my leading choice for food, if you are spending your holiday in Cisternino, is Bell' Italia, down the narrow white bricked road and spilling out onto the alleyways. It is enchanting and the food boasts traditional flavours with a nod to fine cuisine.

Day 4
The following day I meandered over to Ostuni to explore the small town and visit the crisp white Masseria Cervarolo. The brightly coloured flowers climbing up the walls really made for the perfect picture!

I found myself gravitating towards the turquoise pool, where I lazed under a bamboo shelter and a cocktail menu was conveniently placed in my hand. One Mojito please…"

Day 5
"There's so much to see on this Puglia holiday that I don't want to miss anything. So I head to Monopoli where I spot glamorous Italian couples taking wedding pictures in front of the beautiful entrance of the Don Ferrante hotel. It's fair to say that the stunning exterior offers the merest glimpse of the splendour inside. I ate dinner on the rooftop terrace and revelled in its charming ambience. The food here is always marvellous, and the wine even more so. I was happy to be staying here for a comfortable night in a king size bed under a vaulted ceiling for a kip.

Day 6
"Reluctantly, it was time for my little Fiat 500 and me to return to Bari airport and fly back to Liverpool (sigh). As so often, the downpour of rain which greeted me on landing brought me back to reality with a bang, reminding me that another unforgettable Puglia holiday had come to an end."

"Today, I'm at my desk with a glowing tan still intact, sharing my (too) short but ever so sweet holiday in Puglia with you. If you would like to talk to me and plan your own holiday Puglia, or any of our other regions of Italy, I'll be happy to have a chat and advise you on how to plan a tailormade holiday in Puglia." 

Call us on 01694 722193 to start planning your Puglia adventure with Paul or request a call back and one of our Travel Specialists will be in touch.