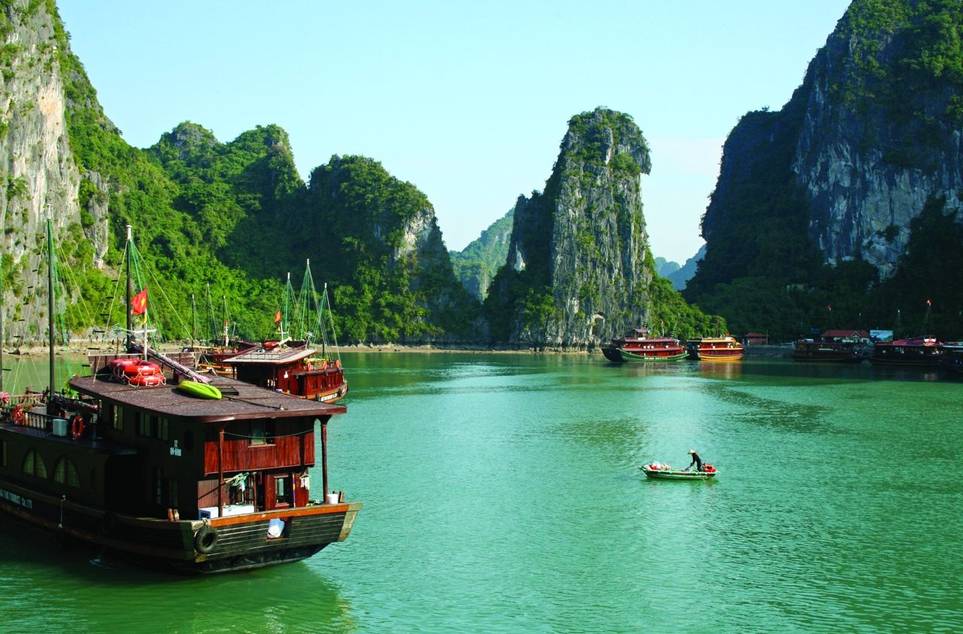 We're excited to announce we are introducing three exciting new Asia destinations! Learn more about our luxury holiday destinations in Asia now.
Our Asia Destinations 2019

Long Travel goes Long Haul!
We're excited to announce we have introduced three magnificent new Asia destinations for luxury travellers to enjoy! From watching the sunrise at magnificent World Heritage listed temples to embarking on cruises around Ha Long Bay, learn more about our luxury holiday destinations in Asia today.
Our holiday destinations in Asia
Ever wanted to travel Asia in luxury while experiencing the culture and history, on a trip tailor-made just for you? With Long Travel's help, that dream can become a reality. Discover our new places to visit in Asia – our Asia destinations include:
Vietnam and Cambodia
Enchanting landscapes, bustling cities full of life and history oozing from every corner – Vietnam and Cambodia offer a diverse travelling experience, providing memories to last a lifetime. Whether it's exploring Ho Chi Minh City in Vietnam or marvelling at the world's largest religious monument – the iconic Angkor Wat – in Cambodia, these must-see Asia destinations are the perfect getaway for any luxury traveller.
From experiencing a Buddhist blessing in Oudong to a rickshaw ride in Hanoi – we have two luxury itineraries to choose from. Learn more about our Vietnam and Cambodia holidays:

Vietnam and Cambodia Highlights
Experience a 14-day river cruise around Vietnam and Cambodia – allowing you to fully immerse yourself in the rich cultures of each country. Relax in luxury five-star accommodation by night while witnessing iconic wonders by day – from bewitching landscapes to enticing flavours, this Vietnamese and Cambodian adventure offers an experience like no other – and is not one to be missed.
Trip Highlights:
Sunrise at Angkor Wat – watch the sun rise at Cambodia's World Heritage listed temple
Luke Nguyen's Vietnam House – dine Vietnamese style in Ho Chi Minh City
Rice Paper Making – discover how to make rice paper in Cai Be
Discover Vietnam and Cambodia – Essential
Want a luxury 18-night river cruise that allows you to explore two fascinating countries? This Asian destination itinerary offers just that. Perfect for those who enjoy staying in luxurious accommodation while being able to explore the natural beauty and wonders these two countries have to offer.
Trip Highlights:
Rickshaw ride in Hanoi – get in touch with the inner culture of Vietnam and experience a traditional rickshaw ride in this bustling capital city
Buddhist blessing – in the former royal capital city of Oudong, participate in a Buddhist blessing given by monks
Ha Long Bay Cruise – embark on a 2-day cruise around Ha Long Bay 
China
Visit China on the trip of a lifetime, guaranteed to leave you with memories to treasure for years to come. While visiting the world's most populous country, tantalise your taste buds with incredible Chinese cuisine, witness stunning natural landscapes at every turn, and experience the juxtaposition of fast-moving cities compared to quaint villages. Learn more about our China holidays now:
Best of China – Luxury

Discover a 14-day trip which allows you to see the beauty of China in luxury with a river cruise tour on board the Yangzi Explorer. With 62 luxury Chinese-chic suites, cruise around the iconic world of China and witness quaint villages, dynamic cities and magnificent landscapes.
Tip Highlights:
Terracotta Warriors – experience the life-sized clay soldiers of the Terracotta Army in Xi'an
Great Wall Dining – private chef prepared buffet lunch along the Great Wall of China
Protected Giant Pandas – visit the endangered species, the Giant Panda
Our new luxury holidays to Asia allow you to explore the history, culture and beauty of this magnificent continent.
Find out more about our Asia destinations today from Long Travel – creating bespoke tailor-made experiences to last a lifetime.