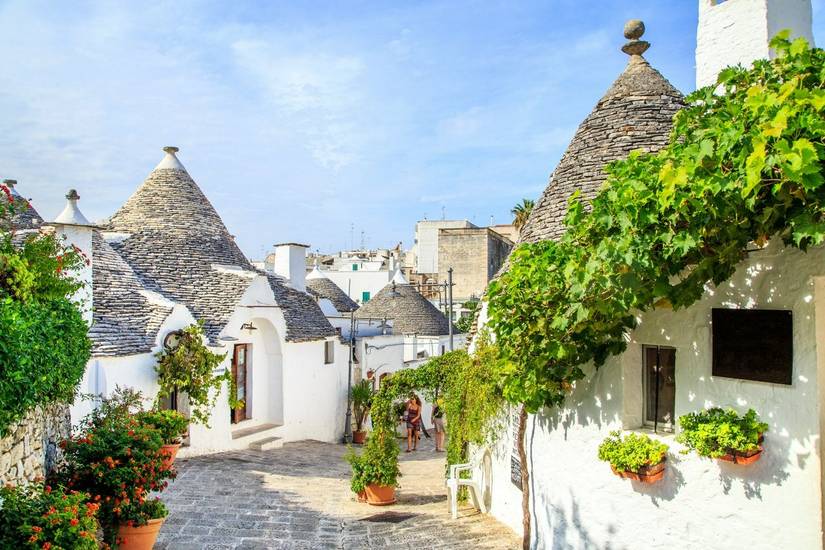 Compared to other regions of Italy, Puglia is relatively undiscovered. Tucked right in the 'heel' of Italy's boot, it attracts a lot of Italians, mainly from the Northern regions of the country, who travel down to the south for the stunning beaches and year-round sunshine a holiday in Puglia has to offer.

There is nothing more iconic than Puglia's white-coned trulli houses. Trulli are to Puglia what windmills are to Holland! So, choosing to holiday in authentic trulli accommodation really gives you a feel of Puglia's local way of life. Long Travel's exclusive trulli offer a blend of luxury, mixed with the authentic heritage of these little homes, which have been carefully converted from their previous use as agricultural storehouses.
Our exclusive collection of trulli lies in Cisternino, surrounded by thousands of ancient olive trees and endless countryside. You will feel as though you are staying in your own little hideaway. The neighbours of the trulli still grow their own produce on their land, and when you walk down the country lanes by the trulli you can see them with their families enjoying time in their gardens. You may even be invited to join them, as hospitality is part of their friendly culture. You can also usually hear them coming down the small lanes, carrying their produce in their apes (pronounced 'ah-peh'), which are Italy's version of tuktuks sounding like buzzing bees.

You can find a lot of delicious fruit and vegetables at the local Cisternino market which takes place on Monday mornings. Head straight up the hill of the Corso Umberto, through streets with flower-filled balconies, up to the Centro Storico, and here you will find the market where you can purchase seasonal vegetables and fruit, cheese, meat, plants and various other goods. There are plenty of bars and cafés dotted around the centre, which make it the perfect spot to sip a coffee whilst soaking up the atmosphere. These cafés are full of locals, who will make you feel right at home and will usually be happy to chat to you about their home town and the complex history of Puglia.

You will find the locals of the region to be friendly and the pace of life to be relaxed. Nothing is ever too much trouble, whether you require firewood for your BBQ or a recommendation of where to find the best seafood. Whilst we are on the topic of seafood, one of our favourite things to do on holiday in Puglia, is to head off to Savelletri early in the morning and meander over to the port, where you will see the fishermen coming in with their fresh catch of the day - you won't get much fresher than that! Pop back to Cisternino on your way home and go via the butcher's and greengrocer's to pick up the rest of your BBQ supplies.
Spend time by the pool enjoying your BBQ whilst basking in the Pugliese sunshine, your delicious food accompanied by the neighbour's (Quirico) wine, which is available for as little as 3 euros - the perfect combination.

You will find that Monopoli is a popular spot with the locals. It is an intricate maze of narrow streets with lots of small shops, boasting baroque history and a treasure-trove of whitewashed fishermen's houses. Its pretty rocky coves and golden sand are also a big draw. One of our favourite rocky coves holds within its structure one of the most beautiful restaurants. In fact, it attracts not just locals but many people from all over Europe, and we can see why. We feel there is no better place to showcase the timeless charm of Puglia than this incredible cave restaurant built into the cliff. It feels really enchanting with the lapping waves right in front of you, as you indulge in the local delicacies of Puglia.

If you fancy something sweet to finish your meal, nearby Polignano a Mare is famous for its incredible gelatos in a variety of flavours. The locals queuing outside mean you can be sure that it will be the best ice cream you've ever tasted!

For a day out, without the need for a car, head to Lecce from Cisternino, on the train. You do not have to explore the city as a tourist, instead we would recommend that you start off with some tapas style food in a tasting restaurant. There are a few to choose from, each offering beautifully varied dishes with perfectly matched wines to tickle the palate, whilst admiring the local architecture. Buon Appetito! A great way to spend a day of your holiday in Puglia.

If you want to get to grips with local traditions, make the 15-minute drive to Masseria Montenapoleone, where the owner is always creating something new, authentic and full of character! Masserie are imposing stone farmhouses, which are as much a piece of Puglia's history as the trulli. Not only does the Masseria Montenapoleone create the ultimate setting for a Pugliese afternoon, it also runs Orecchiette classes, where you can learn to create the ear-shaped pasta, typical of Southern Italy. After creating these little wonders, you can enjoy them with a well-deserved glass of vino by the pool of the Masseria.
Really, there's only one rule that you must adhere to on your holiday in Puglia, which is to do things at your own pace and make the most of the beautiful scenery which surrounds you.
Feeling inspired to visit Puglia? Begin your journey with us to create a tailormade holiday by calling our Travel Specialists on 01694 722193 or by filling in an enquiry form here.