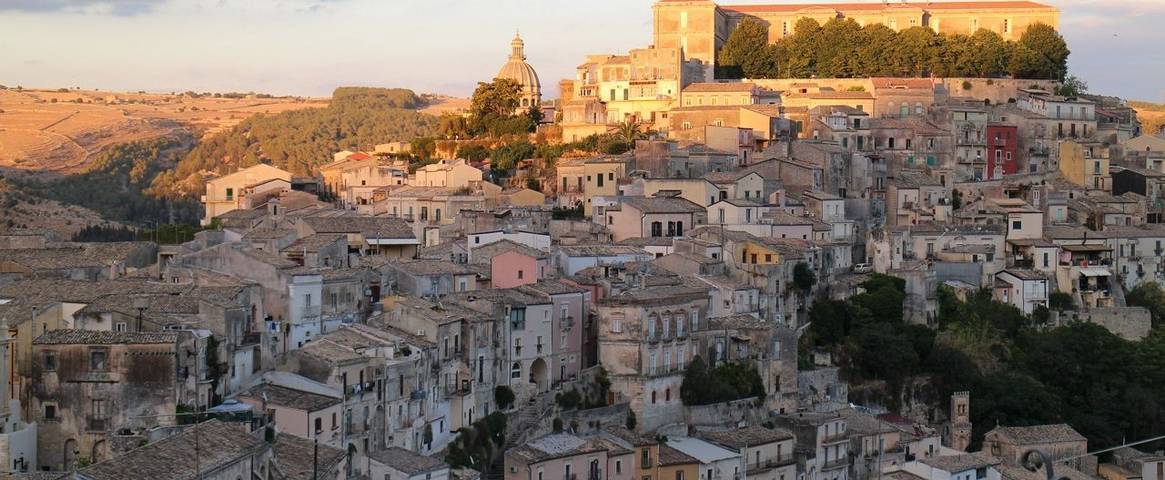 Inspector Montalbano first appeared on British TV screens in 1999, and, way back then, there was no way of telling that he would prove to be such an enormous success and a massive influence on the tourist trade of a hitherto relative backwater on the island of Sicily.
Inspector Montalbano first appeared on British TV screens in 1999, and, way back then, there was no way of telling that he would prove to be such an enormous success and a massive influence on the tourist trade of a hitherto relative backwater on the island of Sicily. Nowadays, everyone has heard of Inspector Montalbano and everyone wants to visit the area of south eastern Sicily to enjoy their own Inspector Montalbano experience on holiday in Sicily. Maybe in the hope of catching a glimpse of Montalbano himself, or getting involved in a little bit of mystery in the narrow streets and alleyways of the fascinating towns where filming takes place.

Of course, Vigata is a figment of the author, Andrea Camilleri's, imagination, but it is based on his own home town of Porto Empedocle, further to the west of Sicily. Porto Empedocle is on the coast with 3 kilometres of amazing beaches, white, ornate churches and pretty pastel architecture. The town is now known as Porto Empedocle Vigata and is watched over by a 16th century tower, built to defend the town from pirates. Salvo lives in the fictional town of Marinella and his home is filmed on the sea front of the real fishing village of Punta Secca. The building was once part of the busy sardine fishing industry. His police station is actually the town hall in Scicli, a beautiful Baroque town, once rather underrated in comparison to the likes of Modica and Noto, but now blossoming on the tourist trail. Salvo often visits Mafia boss Baduccio Sinagra at his palatial home. You can visit it yourself on your holiday in Sicily, but in reality it is Donnafugata Castle! Dating back to the 17th century but with much alteration over the years, it is set in rolling countryside surrounded by giant carob trees. There is an excellent restaurant next door and a particularly noteworthy gelateria within the walls!

Livia and Salvo's dates always begin at the bus stop in Ragusa Ibla, half of a pair of hilltop towns rent in two by the devastating earthquake in 1693, which led to the construction of the amazing Baroque towns of the area. Ragusa Ibla and its twin hilltop town, Ragusa, feature in the opening credits of the programme, as the camera swoops round and on to the stunning 550m long Ponte Guerreri viaduct. Ragusa is a great base for your holiday in Sicily. The iconic Santa Maria delle Scala, from which so many of the placing shots in the series are filmed, has stunning views over the town. Many are the lunches enjoyed by Salvo at the Trattoria da Calogero in the Piazza Busacca (in reality, "La Rusticana" on Corsa XXV Aprile), before having to rush off on an investigation. A large number of these investigations have taken place along the beautiful chalky coastline around Sampieri, which becomes the strip of coastline known as La Mannara in the series. The skyline is dominated by the shell and chimney of an old brick factory –Fornace Penna – burned down by the Mafia 80 years ago.

So, if you would you like to spend a holiday in Sicily and follow in the steps of Inspector Montalbano just request a callback now and we will be delighted to help you plan your tailormade holiday.

One of the properties best placed for exploring Inspector Montalbano territory is the wonderful Parco Cavalonga, which is surrounded by a beautiful and unique landscape. Filled with ancient carob and olive trees, this delightful agritourist property is a fantastic base for your Sicily holiday and is just 10 minutes from Punta Secca and Donnafugata Castle. Attractive and comfortable, each of its apartments has its own private terrace or courtyard and shares an amazing infinity pool. Hotel rooms are spacious and modern, with contemporary furnishings and stylish artwork. The Andrea family who own the property will stop at nothing to ensure your holiday is a special one, with their own fantastic restaurant on-site and cookery courses and horse-riding available for guests.

It's not unusual to see Salvo chasing miscreants through Modica's narrow alleyways, and this beautiful Baroque town is particularly known for its chocolate, based on traditional Aztec recipes and celebrated with its own festival each spring.

If you like bed & breakfast accommodation, Casa Talia is blessed with some of the most amazing views of any property we work with, overlooking wonderful Modica. Owned by two very clever architects and based in the old Jewish quarter of the town, the historic buildings have been cleverly and sympathetically restored to form this charming and unique B&B. This is a truly character-filled place and a must for any Sicilian itinerary for fans of Inspector Montalbano! Perfectly placed for exploring Ragusa and Ragusa Ibla and for visiting Comiso – the location of the young Montalbano's first police station - we offer the excellent Villa Alfredo, run by Alfredo and his brother, Giuseppe. They produce a lot of their own food, which is superb (I can certainly recommend it!!) and they also offer really wonderful cookery courses where you can learn to re-create some fantastic, traditional dishes. There are just five apartments, housed in restored agricultural buildings, and they are all simply but comfortably furnished and vary in size from a studio to two bedroom apartments.

Slightly to the east of the Inspector Montalbano region, but within very easy driving distance of all the Inspector's major haunts, you may want to spend your holiday in Sicily staying at one of our growing number of "agri boutique" properties called Torre Marabino, close to the town of Ispica offering first-rate food and accommodation. The organic fruit and veg grown on the farm is used to great effect in the imaginative and tasty menus, and the seven rooms are so large they are practically apartments! All have been tastefully decorated in soothing pastel colours to compliment the manorial style of the building.

With the recent addition of twice-weekly flights from Stansted directly into Comiso airport in the heart of Montalbano territory, plus new flights to Catania from Manchester, Luton and London Gatwick, it's never been easier to get to this fascinating corner of Sicily on holiday. We will be delighted to put together an Inspector Montalbano holiday in Sicily – just give us a call on 01694 722193 or request a callback and you too could soon be walking in Salvo's footsteps!