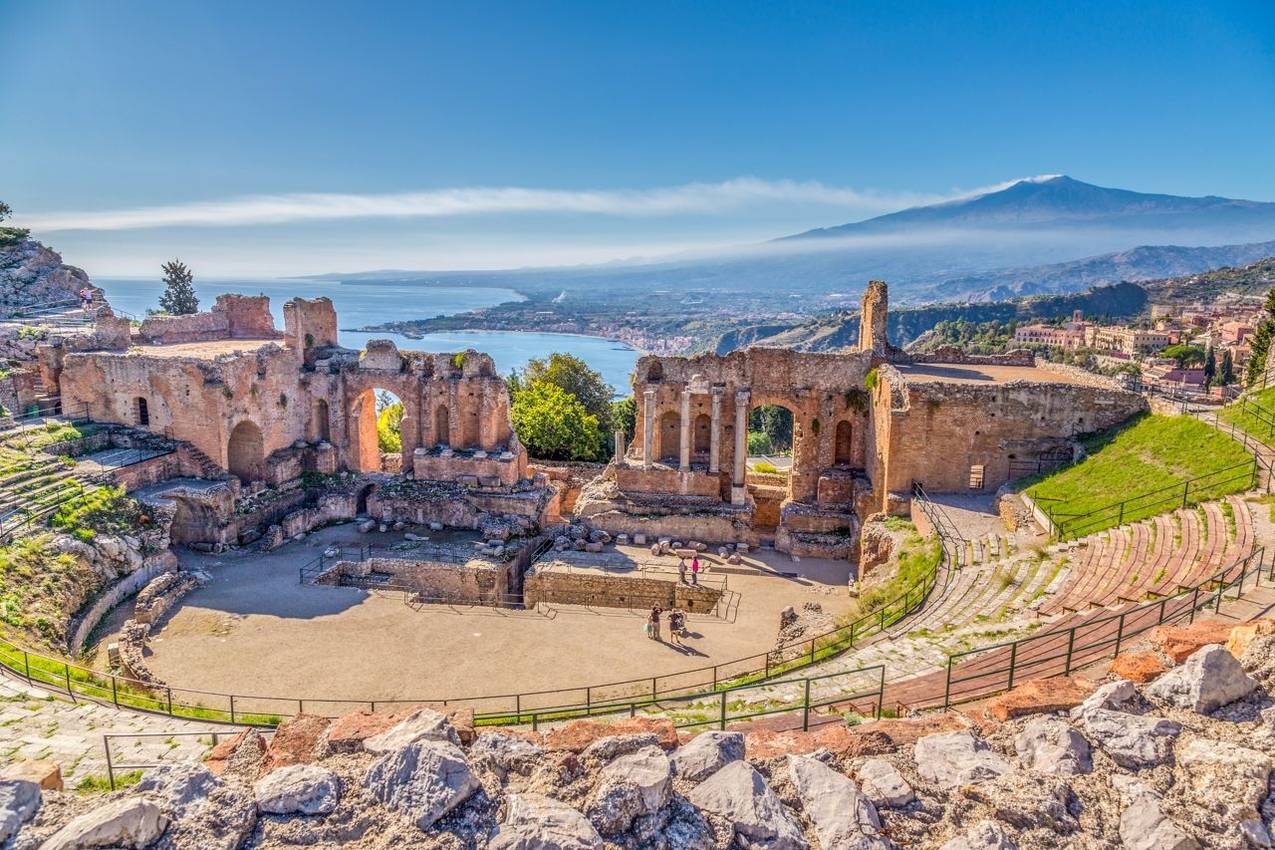 Just 90 miles from the African coastline, Sicily and the Aeolian Islands boast vast landscapes of lush countryside and crystal-clear ocean with plenty of sunshine.
There is so much to do here that Sicily and the Aeolian Islands are ideal holiday locations for both families and couples alike. Bustling with an exciting mix of extraordinary archaeological sites, exquisite eateries and crisp white beaches, they have so much to offer to all of their visitors.
Holidays in Sicily, the largest of Italy's islands are extremely popular with our guests. Found just off the famous boot shape of Italy, Sicily is a beautiful and historic place to visit. But it is not alone, the Aeolian islands, which sparkle like jewels in the sea, offer a warm welcome and are also a fantastic destination for your Italian holiday.
Whether it is a hotel in Sicily or an Aeolian Island Villa that  you are looking for, we offer a variety of amazing locations spread throughout the region.
Here's our brief introduction to holidays in Sicily – if you want to benefit from our first-hand experience, our Italy Specialists will help you plan your tailor-made holiday now.
Holiday in Sicily's Enticing Towns
Holiday in Taormina
There is something particularly impressive about Taormina.  It nestles on the side of a mountain boasting impressive views across the Sicilian landscape. Holidays in Taormina are popular with those that love the finer things in life, such as its boutiques and charming restaurants. If you prefer to get away from the hustle & bustle of the streets on your Taormina holiday, take a look at Villa Sonia. It enjoys enviable views of Mount Etna from its hillside terrace and provides the perfect respite after a busy day exploring.
Holiday in Modica
Not only is Modica one of the UNESCO listed Baroque towns of Sicily but it is also well known for its truly delicious chocolate creations. If food plays a central role in your holiday, Modica could be the destination for you! Humble stone dwellings have been transformed into an intricate tumble of rooms which make up the boutique hideaway, Casa Talia. This boutique B&B is nestled just a five minutes walk from Modicas's main street, in an idyllic location.
Holiday in Cefalu
Cefalu, once a small fishing town, is the gateway from Sicily to the Aeolian Islands and is also one of the leading seaside resorts for beach holidays in Sicily. Whilst it has now been modernised, Cefalu still retains some of the feeling of that old style village, just with a beautiful beach or two. If you want a really special setting for your Sicily holiday, consider a stay at the Santa Anastasia. Set amidst beautiful mountain scenery, and only a 10 minute drive from the coast, Santa Anastasia boasts incredible Sicilian cuisine in an agritourismo setting.
Sicilian Food & Wine
The great thing about the local food which you will enjoy on holiday in Sicily is that it takes a little bit from each of the cultures that has inhabited the island over the centuries. While it has a lot in common with Italian food, you can also see the Greek, French, and Arab influences in each dish. When you eat on holiday in Sicily, you are tasting a little bit of the world.

Sicily hosts several food festivals, including the Festival of the Capers on the island of Vulcano in June, and  August sees the arrival of the Fish Festival.
 
A handful of delicacies to try on your Sicily holiday...

Caponata: aubergine, capers, olives, celery, tomato sauce and olive oil.

Arancine: rice balls, often filled with fish.

Panelle: fried chickpeas, much like polenta.
 
Sicily has some of the very best dessert wine available, so if you are looking for something sweet during your holidays to Southern Italy, this region has you covered. Passito wine is a rare and delicate treat. It is made by leaving ripe grapes in the sun on bamboo mats for over two weeks, allowing the sugars to concentrate before the grapes are pressed. This refreshing wine is akin to nectar.
Getting around Sicily
Our Travel Specialists can book your flights to Catania airport as part of your tailormade holiday to Sicily.

If you want to explore the islands at your own pace, we can arrange car hire for you which allows you visit some of the more remote places on your Sicily holiday.

Alternatively you can use local bus services.

We hope we have inspired you to consider a holiday in Sicily. Feel free to call us on 01694 722193 or request a callback from one of our travel experts who will be happy to provide advice and recommendations based on first-hand experience.