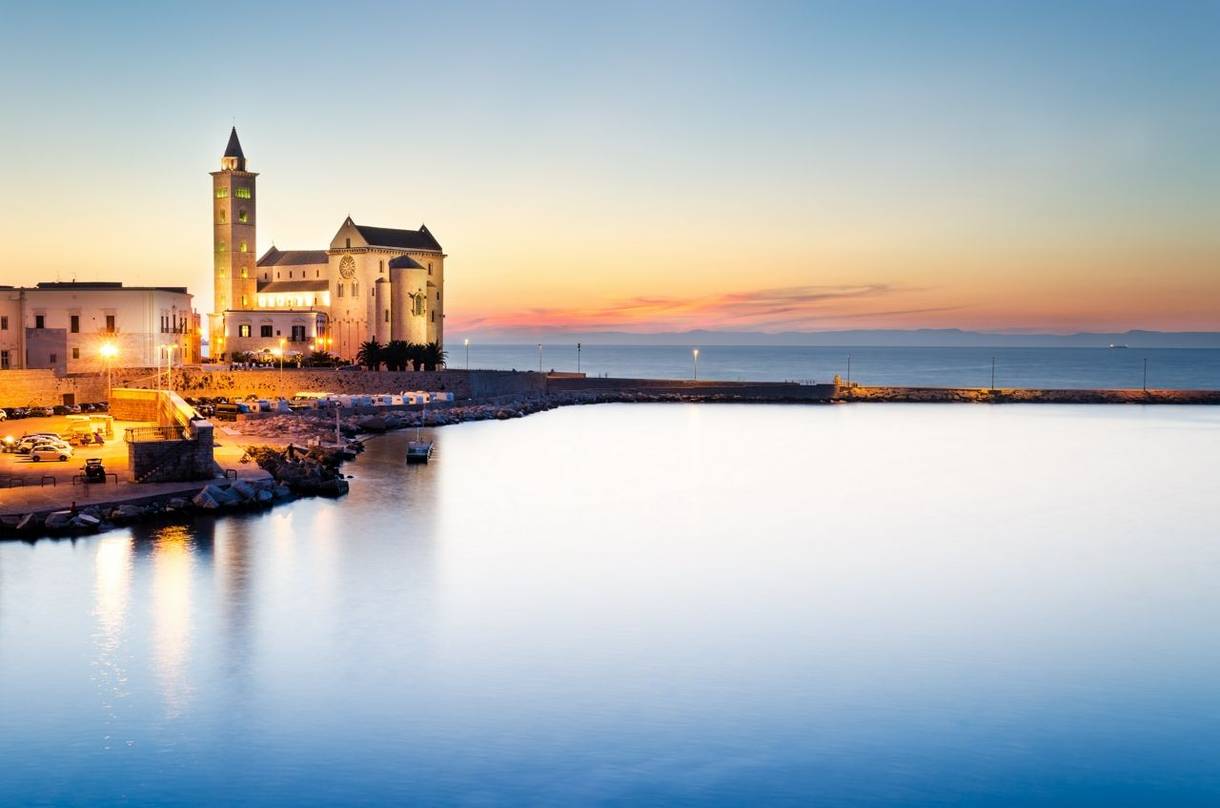 If you are seeking an authentic Italian holiday, Puglia is your place! Puglia's whitewashed hill towns and peaceful, historic farms are just some of the reasons that holidays in Puglia are so wonderful.
This scenic region is set in the south of Italy and makes up what is known as the 'heel' of Italy's 'boot'. Puglia enjoys hundreds of kilometres of Mediterranean coastline, with beautiful clear waters. Holidays in Puglia are packed with history and iconic locations to explore. Puglia is a cultural hotspot and the area includes the Itria valley, home to the trulli, the most extraordinary example of Italian folk architecture.
Where should you spend your holiday in Puglia?
Holidays in Puglia are simply unforgettable, and the location is one of the main reasons why - it's a region that will leave you feeling relaxed, inspired and totally refreshed. The capital of Puglia is Bari, a bustling port and university town set right on the sea. Puglia is bordered by Basilicata and Campania (home to Naples and the Amalfi Coast) which are within a few hours' drive. This makes Puglia the ideal choice if you're looking for an Italian multi-centre holiday to explore more than one region of Southern Italy. Enquire now about our tailor made, multi-centre tour of Puglia.
Puglia's Eye-catching Landscapes...
Varied landscapes are a feature of Puglia. Beach holidays allow you to enjoy the vast stretches of ocean along the coast, whilst inland, valleys and rolling hills are dominated by acres and acres of ancient olive groves. Explore nature reserves lined with oak trees and picturesque forests. A holiday in Puglia will allow you to enjoy some of the most lovely landscapes southern Italy has to offer.
The Weather in Puglia - Holidays for all seasons...
Italian holidays are not complete without Mediterranean weather, and Puglia does not disappoint. It offers hot summers with cool breezes and ocean spray. If you are considering a winter holiday in Puglia, you won't need to wrap up too warm for your trip as temperatures are usually mild. Puglia has a relatively dry climate, so expect a lack of rainy days all year round!
Explore unmissable sites on your holiday in Puglia...
Make sure you find time on your Puglia holiday to explore the historic treasures of the region. Even if you don't stay in Lecce, you should definitely visit the Basilica Di Santa Croce, one of the most beautiful pieces of architecture that Puglia has to offer. Situated in the heart of the Baroque city of Lecce and surrounded by restaurants, it's well worth spending a day of your Puglia holiday exploring this remarkable location. Further north, the Grotte Di Castellana are some of the most beautiful caves in Italy. This breath-taking area is a must for those who enjoy sightseeing, situated close to the trulli houses and the many wonderful towns of the Itria Valley. There are so many fascinating places to visit during your holiday in Puglia such as the stunning towns of Monopoli, Ostuni and Martina Franca, not to mention the more off-the-beaten-track delights of Cisternino and Locorotondo.