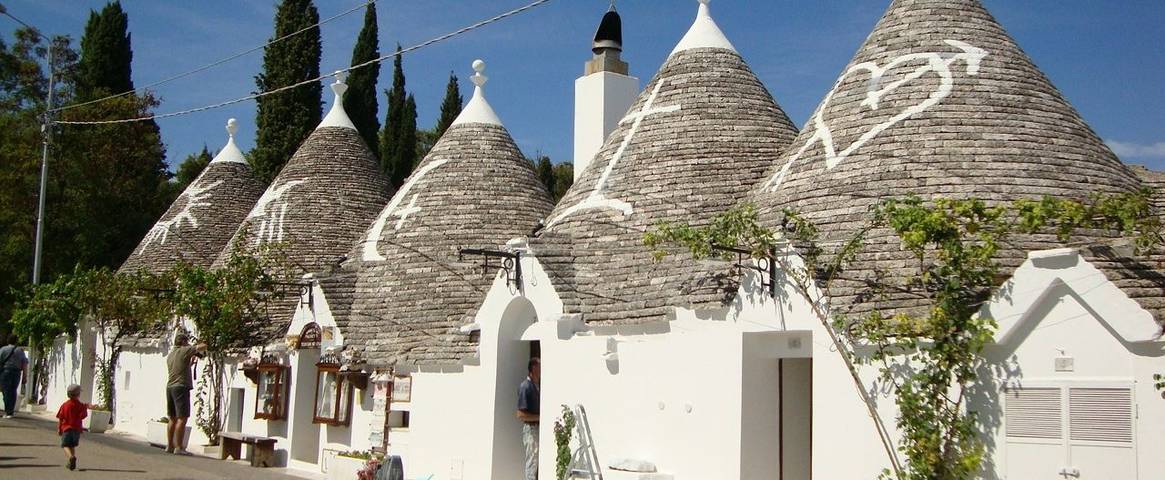 I was very fortunate to study abroad in Puglia for a year, so was able to visit all of the wonderful sites that the region has to offer.
I was based in Bari, but due to the very accessible transport links, I was able to visit places such as Alberobello, Ostuni, Monopoli and Gallopoli. This region boasts some of the most beautiful scenery, with some of the finest cuisine in Italy! Most food is grown organically within the region; places such as Bari have daily fish markets down by the port, with the fresh catch being available to both businesses and the locals. Whilst you're here, you definitely have to try the orecchiette, which is handmade by the people of Bari; you can even go to see it being made on the streets of Bari Vecchia.

For a 'trulli' authentic Puglian experience, I would recommend going to visit the Trulli houses of Alberobello. The Trullis have been transformed into shops, restaurants and even places to stay! They are deceptively spacious; they often look quite small from the outside, but I was often surprised to find out how spacious and comfortable they actually are. The exterior is rustic, traditional, boasting the original, authentic features of the world-famous Trulli's. However, on the inside, they offer modern decor, often beautifully furnished to add a little bit of luxury to this unique interior. Something that you will not find anywhere else, a Trulli stay is an ideal place for those who want the true, Puglian experience.

If you're wanting a beautiful, beachfront adventure, then the small towns of Monopoli or Gallipoli will be right up your street. Monopoli boasts some of the best seafood dishes in the region (there was a restauarnt that created a seafood pasta dish that had a large bit of dough baked over the top of the pot, and it was one of the best meals that I have ever had!) It also has beautiful little courtyards dotted around the town; this is common across the regions, as I visited these places multiple times during my stay, and still stumbled across quaint courtyards that I had never seen before. The region of Puglia has some of the most beautiful architecture; it really does look like a film set! The city of Ostuni, also known as the White City, is just stunning (I took many a photo whilst I was there, as there were just too many photo opportunities to choose from!)

If you want to venture more inland, you can visit the beautiful town of Matera, and visit the cave dwellings. Another gem of Southern Italy, Sassi di Matera is a UNESCO world heritage site, offering stunning scenery and historical sites around every corner. It was even named the City of Culture 2019!

Puglia is definitely a place to visit, whether you fancy a beach-front holiday or to delve into the true, authentic Italian experience, there is something for everyone.