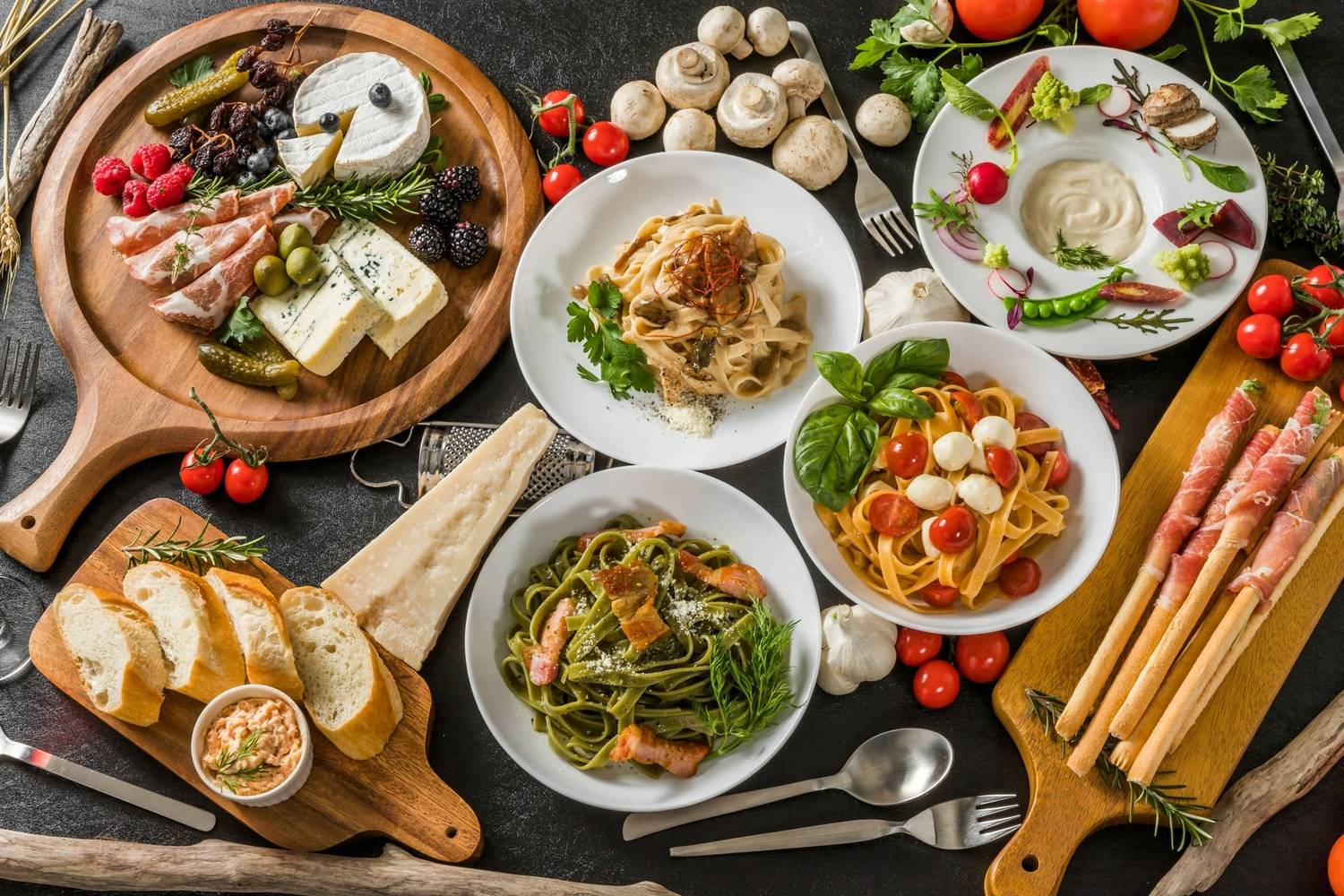 The beautiful island of Sardinia is close to Corsica, just off the mainland not far from the capital of Italy, Rome.
Sardinia features a range of stunning locations, from mountain ranges to thousands of kilometres of sandy coastline that are just waiting to be explored.
Of course, when holidaying in Sardinia, you will want to sample the delicious local food and wine. Here's our introduction to the traditional Sardinian cuisine and our pick of the delicious Sardinian wines.
AN INTRODUCTION TO THE CUISINE OF Sardinia
Holidays are for relaxing and spending time with family and friends, and what better time to do that than sitting at the table with a fine spread in front of you.
Sardinian food has its origins in the classical period - and possibly even earlier. It revolves strongly around fish, as well as pork and lamb. Local people take great pride in their delicious cuisine and the way in which it is prepared, so it is easy to find typical Sardinian dishes in restaurants throughout the island. 
Take a look at some of the traditional dishes you should try on your holidays to Sardinia.
Pani Frattau: wafers of carasu bread layered together with tomato sauce.
Fregola: small balls of pasta dressed in various types of seafood.
Panadas: oven baked pies that contain either fish, meat, or vegetables.
Lorighittas: pasta that has been wound together and is served with sausages and tomato sauce.
Malloreddus: a small, oblong, grooved pasta that is similar to gnocchi - the classic pasta of the region.
Gnocchetti Sardi: gnocchi made with semolina flour and saffron, served with tomato and sausage sauce.
One of the main delicacies which you should try on your holiday in Sardinia is Maialetto, which is roasted piglet.
It is a hugely popular dish and definitely a delicious treat, which you can find in restaurants, and which is also cooked by local people in their homes.
The great thing about this dish is everyone has their own way of roasting and serving it, so you will never have the same roast twice.
AN INTRODUCTION TO THE WINE OF Sardinia
The wine of Sardinia has a chequered history. It was held in the highest regard during the 16th century, and then seemed to fall out of favour until very recently. Now it's popular again, it is not hard to see why. The mild climate and fertile limestone soil make the perfect environment for good grapes to grow. Southern Italy is recognised to be home to some of the best wine in the world, and Sardinia is now producing some of Italy's best wines:
Here are a couple of reds and whites that you simply must try on your holiday in Sardinia:
Turriga red wine: The perfect table wine with strong hints of plum and berries.
Terre Brune: A Renaissance red wine filled with spice, hints of vanilla, and sun-soaked herbs.
The food and drink is sure to be a highlight of any holiday in Sardinia.
At Long Travel, we will not only help you find the perfect Sardinia hotels and Sardinia villas, but we will also be happy to give you advice and information about where to go for the best food and drink, and how you can find ways to soak up the local culture. Our Travel Specialists are here to help. 
You may even want to check out our collection of food and drink holidays for some further inspiration.
 
If you would like our travel experts to help you plan your holiday in Sardinia, our Travel Specialists will be happy to help. Just give them a call on 01694 722193 or request a call-back here.