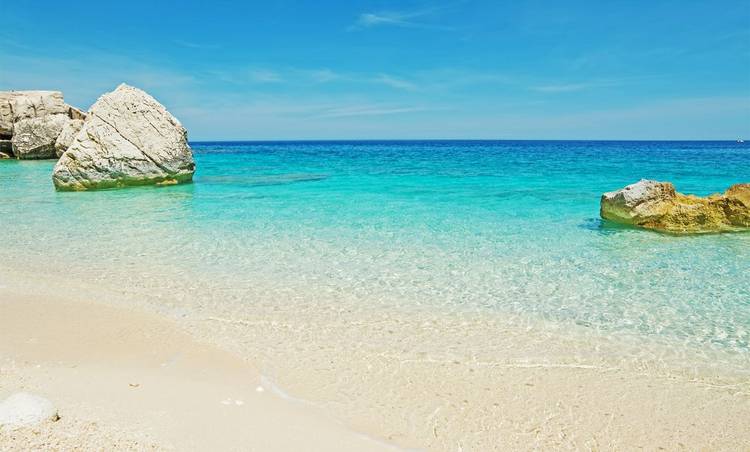 Holidays in Sardinia offer stunning coastlines, dramatic mountains, white sandy beaches & still turquoise seas. A long-time favourite holiday spot for the rich and famous, Sardinia is an enviable earthly paradise of secluded places, vibrant colours and heady scents.

Edged with long, high and rocky coastlines, Sardinia offers an incredible holiday experience, boasting the Med's most seductive beaches, a beautiful, mountainous interior, and a fantastic array of both traditional and contemporary restaurants to enjoy.
 1. Breath-taking Beaches
With 1,800 km of unspoiled coastlines, Sardinia is not short of picturesque beaches. Coastlines vary, each have their own beautiful characteristics, from secluded coves to calming dunes. Costa Smeralda has intimate bays, whilst Capriccioli has boat hire facilities and beachfront bars. Off the beaten track is the Pitrizza beach at self-catering property Liscia di Vacca.
 2. Sardinian Cuisine
Sardinia is not kind on the waist band, which is one of the things we love about it. Famous delicacy Porchetta is suckling pig, slow cooked on an open fire. Gourmet hotel Su Gologone has it down to total perfection! Sample traditional cuisine such as gnochetti, panadas (oven baked pies,) or the famous mini pasta balls, loreghittas – all best enjoyed washed down with a glass of vino! If you fall in love with the food, then let us organise a cookery class for you at Villa Del Golfo.
3. The Fascinating History of Sardinia
Feast your eyes on fascinating ruins which date back to 730BC, discover wonders in Cagliari at the National Museum of Archaeology, wander to the old Castello district to visit the Roman amphitheatre, or explore the old Catalan town of Alghero – it's your choice! There is simply so much interesting history with Spanish and Roman influences. A hotel such as Villa Mosca will provide a perfect base for you to explore Sardinia.
4. Festivals – Celebrate in Sardinia
Each month the Sardinians have something to celebrate, from colourful carnivals, religious processions and equestrian events such as the L'Ardia Horse Race. Enjoy displays of traditional costumes, local handicrafts, traditional music and enjoy local food and wine served in the open-air from street stalls. Local produce including artichokes and cherries are celebrated with their very own festivals!
5. All Ages Welcome
Sardinia hosts an array of activities for any age, such as wildlife holidays, coastal hiking and water skiing! We recommend picking up a small water dinghy in Cannigione and taking a day trip to the Maddalena Islands. Kids love exploring the giant tombs and with names like Domus de Janas, translated as 'fairy house tombs', their imaginations will go wild! Hotel Cormoran is just one of the superb hotels in our collection.
Our top tips for a holiday to Sardinia... 
 
Whilst on holiday in Sardinia be sure to visit…
The historic Nuragic village of Tiscali. Trails lead you to this gem in a carsic valley. 
 
A must try delicacy…
Seadas - delicious fried dumplings filled with pecorino cheese and served with honey
 
Book a table at…
Su Gologone's restaurant – you don't have to stay here to sample the delicious cuisine. It's famous throughout Italy for its incredible and authentic Sardinian cuisine – a gastronomic delight!
Call our Travel Specialists  on 01694 722193 to discuss your specific holiday requirements and we will tailor-make a package for you, or drop an email to our specialist team at 

This email address is being protected from spambots. You need JavaScript enabled to view it.

.