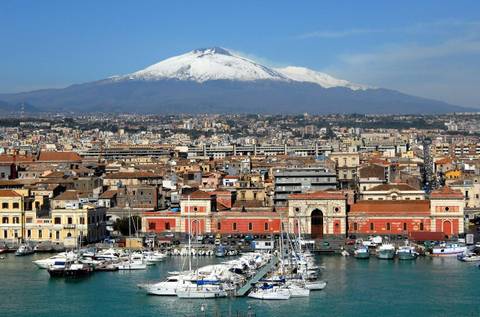 It's no surprise that when we talk of Italy we think of food.. But when we think of Sicilian food there are two points that stand out for us.

1. The Cuisine of Ragusa and the Modica Chocolate will be a highlight of your Sicily holiday

The food is always a highlight of any holiday in Italy, but when we think of Sicily holidays there are two things which really stand out for us. If you are lucky enough to spend your holiday in Ragusa you will discover that this tiny town boasts no fewer than three Michelin star restaurants – all delicious and very memorable! One of these restaurants is located in Locanda Don Serafino, creating delicious seasonal dishes inspired by Ragusan cuisine. A meal here is worth every penny and is sure to be a highlight of any holiday in Ragusa. If you fancy a taste of history and culture in your cuisine, try the incredible food at the Duomo restaurant. Words such as 'seductive' and 'baroque' were used to describe the food by the inspectors and every dish created by Ciccio Sultano is like a little mini masterpiece on a plate for you to tuck into! Another unforgettable Ragusa holiday experience! Alternatively, visit Ristorante La Fenice, which offers traditional cuisine with a touch of modernism. The flavours that Claudio Ruta produces are delicious with a focus on seafood dishes. You will be sure to taste something very different that you probably have never tried before but may now become your new favourite dish!

For those with a sweet tooth our second standout highlight of any holiday in Sicily is the Modica Chocolate… The chocolate is based on an Aztec recipe where cacao seeds have been made into something much more edible. It has even been awarded an official seal as a traditional recognisable regional food product. Every December Modica celebrates its creation at the Choco Modica food festival. If you visit Sicily during this period you can sample the delicious chocolate with its grainy texture that makes it easily identifiable and even admire chocolate sculptures!
2. Visit Val di Noto (the Noto Valley) during your holiday in Sicily
Consisting of eight gorgeous Baroque cities, this UNESCO World Heritage Site is made up of Modica, Ragusa, Scicli, Catania, Noto, Palazzolo, Caltagirone and Millitello Val di Catania. After the catastrophic earthquake in 1693 these towns were rebuilt in the beautiful baroque architectural style that you can see now. These spectacular cities are well worth a visit during your holiday in Sicily.
3. Discover Sicily's Ancient Greek History
Sicily is both the largest region of the modern state of Italy and the largest island in the Mediterranean Sea, which made it very desirable as a strategic location for Mediterranean trade routes. The city of Syracuse was originally a Greek colony and Taormina's Greek theatre must be one of Italy's most impressive ancient sites. It sits proudly on the hill top overlooking the town below, surveying the sea with spectacular views of Mount Etna. You certainly won't be short of historic treasures to explore during your holiday in Sicily. Agricento's Valle Dei Templi (Valley of temples) is an enormouse archaeological site including Greek and Roman remains.
4. Mount Etna, Sicily's most famous sight
Mount Etna is Europe's highest and most active volcano! Towering above the city of Catania at 10,922 feet (3,329 metres), it has been alive for about 500,000 years and goes through series of eruptions regularly with the longest recorded history of eruptions. Although usually covered in snow, if you want an active Sicily holiday, you can hike and explore the 460 square miles which it covers and get a close up look at this incredible volcano. A quarter of Siciliy's population lives on the slopes of Mount Etna, as it acts as a great source of income due to all the tourism that passes through but also as the soil is being fertilised with extremely rich nutrients constantly by the falling ash it makes it very productive for farming and also contributes to its excellent vineyards, which brings us neatly to our final reason for recommending a holiday in Sicily…
5. Sicily's wine 
One of the highlights of any holiday in Italy is usually the local wine, and Sicily is no exception. One of our personal favourites is the Planeta Estate (La Foresteria) vineyard. Set on the shores of the beautiful landscape of Lake Arancio, Planeta is one of Sicily's largest wine producers, producing two and a half million litres of wine per year. This winery produces all of Sicily's Alastro (a fruity wine made of 100% grecanico grapes), Chardonnay and Cometa white wines as well as their new Nero d'Avola red wine. Do try this wine on your holiday in Sicily, it has sweet tannins and plum or peppery flavours and is named after Avola in the far south of Sicily. It is the most important red wine grape in Sicily and one of Italy's most important indigenous varieties. Some of Sicily's other wines which we recommend you to try are Planeta's Passito di Noto (made from 100% Moscato Bianco grapes), Cerasuolo (the only D.O.C.G wine to be awarded in Sicily which comes from the Vittorio winery), Syrah (a red made from syrah grapes and kept in oak for 12 months) or the Burdese (a strong red with 70% cabernet sauvignon and 30% cabernet franc grapes which is also kept in oak for 12 months and is one of the few wines which can be kept for up to 10 years). The knowledge that has been handed down through generations at this Sicilian winery is incredible. It's a good idea to spend a day of your holiday in Sicily experiencing traditional wine tasting while learning about all the different Sicilian and Georgian grape varieties that have been used to produce Sicilian wine.

However you choose to spend your holiday in Sicily, our Travel Specialists will be happy to tailormake a holiday just to suit you. Give them a call on 01694 722193 or request a call back now.