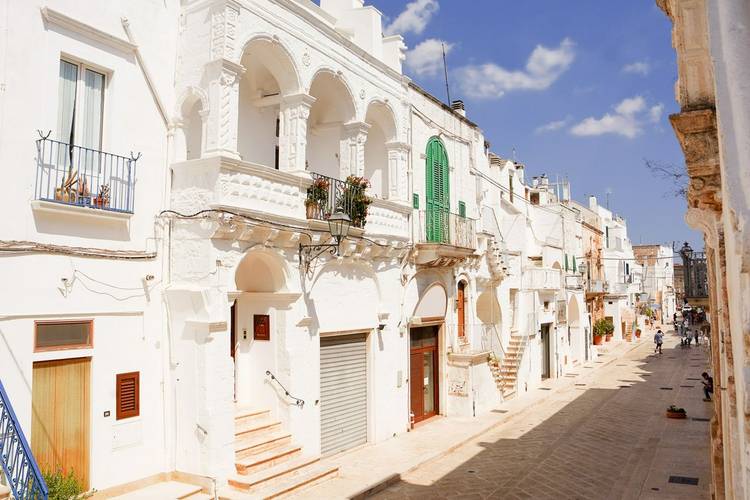 Although still relatively undiscovered by mass tourism, holidays in Puglia are having a bit of a moment and Puglia is the place where savvy travellers seek the authentic Italy. Puglia is the region known as the "bread basket of Italy" right at the heel, and it is a haven for those seeking a quintessential Italian holiday experience.

Here are the five reasons why our travel experts would recommend a tailor-made holiday in Puglia:
1. Enjoy a Trulli Holiday in Puglia
The 'trullo' - 'trulli' in the plural – represents a style of building unique to Puglia. Trulli are famous for their white conical roofs and circular living spaces and some have now been converted into Puglia's best holiday accommodation.

Trulli were originally constructed for use as storehouses by Puglia's local farmers, or shelters for peasants, and they date back to the 19th century. Trulli are usually made from calcareous tufa or hard limestone.

#Interesting Fact About Puglia

The reason why trulli were made from dry stone walls, without using any kind of mortar or cement was to evade building taxes – they could simply be knocked down when the tax inspectors came to call!

Trulli can be found throughout the Itria Valley in Puglia and most of our trulli hotels are in the countryside around Cisternino. Trulli are so important that Alberobello, which has some of the best-preserved trulli in the Puglia region is even recognised by UNESCO as a World Heritage Site. It's a fascinating place to visit during your holiday in Puglia.

Long Travel can arrange holidays in trulli throughout Puglia. Our trulli hotels range from modern elegance to rustic charm, with unique interiors decorated in individual style. A trulli holiday in Puglia is perfect for those seeking an authentic Italian experience! Most enjoy stunning views of the surrounding countryside taking in olive groves and beautiful hillsides, and you can even find trulli hotels with their own private swimming pools.

Paul loves nothing more than to spend a holiday in Puglia. One of Paul's favourite Trulli is Trullo Noce - charmingly restored it is the perfect romantic getaway.


2. Visit Lecce during your Holiday to Puglia 
Lecce is a hidden gem, the Baroque provincial capital set right in the heart of Puglia. No holiday in Puglia is complete without a visit to Lecce. This charming town is little known and yet, those who visit Lecce find a treasure trove of exquisite architecture including beautiful Baroque facades, elegant palazzi and impressive churches.

In general, holidays in Puglia are excellent value for money, and Lecce is no exception. In contrast to better known Italian cities such as Florence or Venice, eating out in Lecce is reasonably priced. Foodies on holiday in Puglia will enjoy locally sourced produce such as cherry tomatoes bursting with flavour. Our favourite place in Lecce to savour delicious local specialities is Enogastronomia Povero, close to the splendid church of Santa Croce. It is a deli offering local specialities and meals with a great wine list!

Those with a sweet tooth will enjoy the fantastic gelateria or ice cream shops, and we recommend a trip to the Natale Pasticceria, an artisan sweet shop offering beautifully made chocolate, sweets, ice creams and of course Pasticciotto. This Italian pastry is filled with either ricotta cheese or egg custard depending on the region and very popular around Easter, not to mention incredibly moreish!

Lecce's architecture draws on her chequered past, leading back to the Greeks, the Romans and the Spanish. One of the best experiences of your holiday in Puglia, will surely be to wander the streets of Lecce taking in the grand squares and soaking up the lively atmosphere. Don't miss the Santa Croce Church, which is a fine model of the style known as 'Barocco Leccese' with its intricate exterios and magnificent Renaissance interior.

Wherever you choose to base yourself for your tailormade holiday in Puglia, don't miss a trip to Lecce. It is sure to be a highlight! Alternatively, spend your Puglia holiday right in the heart of Lecce staying at the stunning Patria Palace.

Travel Specialist Michael, is an architecture buff who loves the history of Puglia. He also knows that no holiday in Lecce is complete without stopping off at the Natale Pasticceria to pick up some chocolates for the office and some marzipan fruit for himself!


3. Foodies will love Puglia

Holidays offer the perfect opportunity for long lunches and leisurely dinners. Puglia has some of the finest food that Italy has to offer. It is in many ways, the definition of traditional Mediterranean food. It's fresh, healthy, light, and meticulously prepared by chefs who really care about the food they are creating. The cuisine of Puglia, much like the region itself, remains relatively undiscovered, which makes it the perfect opportunity to take your taste buds on an adventure.

Whilst on holiday in Puglia, you can enjoy local olive oils, meats, cheeses and freshly prepared pasta. No Puglia holiday would be complete without trying the classic regional pasta speciality of orecchiette, which translates as 'little ears'. orecchiette are named for their delicate shape. You will find that fish is much more commonly served in the Puglia region than meat and that both are delicious.

One of the best places to enjoy fresh fish during your Puglia holiday is the charming coastal town of Monopoli. If you want a break from exploring the history and architecture of Monopoli visit the Ristorante Piazza Palmieri. The seafood here is reasonably priced for the quality of the food but be warned, the portions can be VERY generous! Anywhere on the coast which you visit during your holiday in Puglia is sure to offer delicious fish and sea food, but another of our top picks for delicious seafood in a beautiful location is the Ristorante La Rotonda 2 in Torre Canne. Try the courgette and shrimp soufflé or mussel gratin.

Long Travel has specific foodie holidays designed to help you make the most of your holiday in Puglia. Have a look at our Cooking and Wine-tasting Break in Puglia or our popular A Taste of Puglia.

For more details about the food and wine, which you will encounter during your holiday in Puglia click here.
4. Holidays in Puglia can be all about the beaches
The coastline of Puglia is the longest of any region in Italy, bordered by the Ionian and the Adriatic Sea. Puglia has a wonderful climate, crystal-clear seas and beautiful beaches making it perfect for sun-seekers and beach-lovers. If that is how you choose to relax, then holidays in Puglia can be about nothing more than lazing on the beach.

Long Travel has an excellent choice of beach hotels in Puglia and one of our favourite places for a beach holiday in Puglia, is the area around Torre Canne.

It boasts a mixture of  stretches of beach, which are free and open to the public, and some very well equipped lidos. Of the lidos, our favourites are Lido Bizzarro which has great facilities and an excellent restaurant and Viar Beach Club, which is a lido with everything including a fabulous swimming pool.

Torre Canne is a wonderful place to spend a holiday in Puglia as a couple or as a family with a delicious selection of seafood restaurants right by the sea. Torre Canne offers a more tranquil setting, or in contrast Torre Coccaro offers an alternative 'Ibiza' style beach club with wooden terraces and private lounge chairs under the palms. You may also wish to visit the lovely sandy beach of Torre Gauceto, a little further south, which is extremely picturesque and forms part of a nature reserve.

Other top places for Puglia beach holidays include: Savelletri, Ostuni and Monopoli.

You could spend your entire Puglia holiday basking in the sunshine and slurping gelato in seaside cafes, but Puglia's beach resorts offer plenty more activity with a variety of water sports and boat trips on offer. The waters are also full of underwater interest with underwater caves, coral reefs and even a Roman shipwreck offshore.

Travel Specialist, Paul's personal favourite is the Grotto restaurant at Polignano a Mare. Quite literally built into the cave, you look straight out to the sea and it is accessed by a long staircase through the rocks. It is a stunning setting for dinner!
5. Explore Puglia's Authentic Coastal Towns


Whilst on holiday in Puglia you will undoubtedly wish to explore the region's rich and colourful past. We think that some of the best examples of this are its stunning coastal towns such as Monopoli and Otranto. These towns were fortified by the Spanish and defensive towers were built as the towns were in such a strategic position between the east and west which made them an attractive place to settle or at least control and exploit. They were many people such as the Turks and the Venetians who tried to attack repeatedly to gain a foothold in the region.

Monopoli is a great base for your Puglia holiday. It is a prosperous fishing port, which is vibrant yet unspoilt with medieval cobble-stoned streets and white-washed fishermen's houses. Visit the Porto Vecchio, a bustling port with picturesque fishing boats still heading out to catch the day's fresh fish – ready to serve at the restaurants for dinner. The 12th century cathedral is well worth a visit during your stay in Monopoli as is the 16th century castle of Charles V and don't forget to head out of the centre to the tiny hamlets surrounding the city, nestling in olive and almond groves. The masseria or fortress farmsteads are typical of the region!

Those who want to spend their holiday in Otranto, can stay at the Masseria Montelauro, a stylish & laid-back unique boutique hotel. It is the perfect base from which to explore this peaceful historic seaside town with views of snow-capped mountain peaks. It has an impressive castle, charming marina and a beautiful beach – one of the finest you will find during your holiday in Puglia. Visit the morbid Cappella Mortiri (Chapel of the Dead) where you will see the skulls of 800 martyrs who sacrificed themselves during the Turkish invasion.

Sue, our Travel Specialist, highly recommends a visit to the Castel del Monte an incredible Octagonal Castle which is mysterious and picture perfect! A highlight of her holidays in Puglia are the delicious panzerotti- resembling a turnover but fried with pizza fillings inside.

If we've tempted you into dreaming about the blue shore of Southern Italy, than our Italian Travel Specialists would love to hear from you on 01694 722193 and discuss your holiday requirements or click here to request a call back.