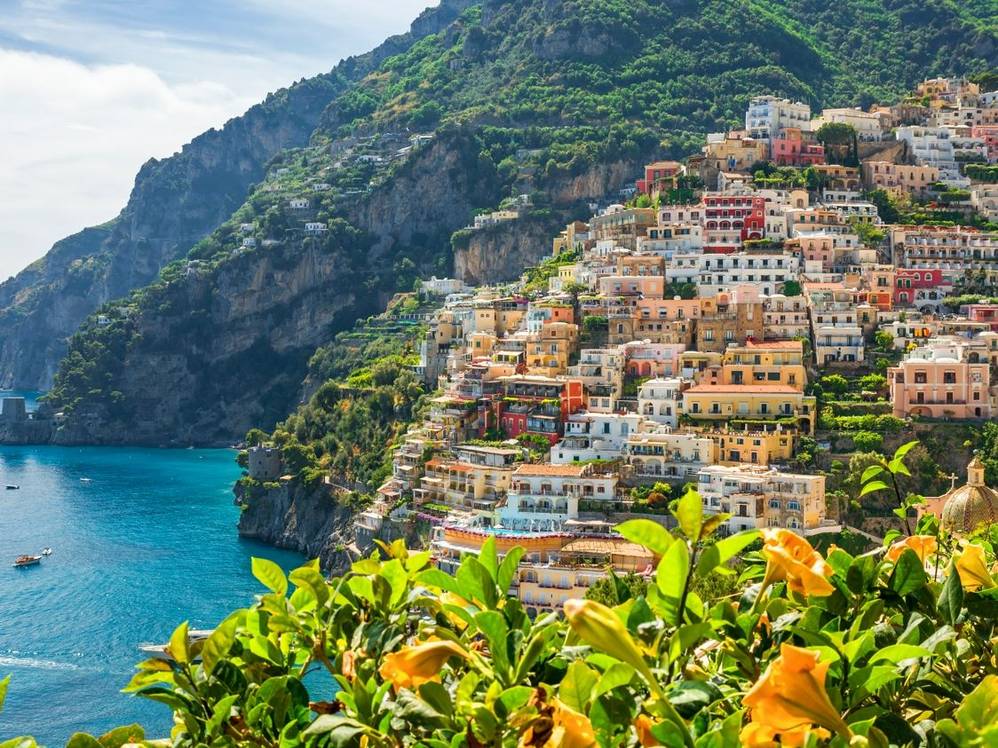 Starting with holidays in Positano and Amalfi – These two enchanting towns are two very good reasons why our guests choose a holiday on the Amalfi Coast.
Holidays in Positano and Amalfi
These two enchanting towns are two very good reasons why our guests choose a holiday on the Amalfi Coast. The attractive, colourful buildings cascading down the hillsides, make for a truly spectacular sight and are part of what makes both Positano and Amalfi such wonderfully photogenic towns. The quaint little streets are compact, which makes wandering around an extremely enjoyable way to spend a day of your holiday. Meander through the little piazzas, stopping here and there for a drink and soaking up the hustle and bustle as people go about their business. Positano has something of a reputation as a fashionable getaway spot, which makes it a little too much for many people, though it's certainly worth a visit during your stay in the area. Amalfi itself strikes a much better balance: busy and bustling whilst still retaining its charm and character. 
Holidays in Sorrento
Hand on heart, this is one of our favourite destinations and a great place from which to explore the entire Amalfi Coast. Holidays here are all about the views! Sorrento is the perfect place to sit and watch the world go by with a cool glass of refreshing Greco di Tufo in hand. Drink in the stunning views over the Bay of Naples and towards Mount Vesuvius. The island of Capri looks so close you could almost touch it – it's the obvious choice for a fascinating day out. Take a stroll through the bustling town of Sorrento and don't miss the opportunity to feast on the best pizzas in the world. Sorrento has easy links to other towns of the Amalfi Coast, as well as to Naples, Capri and Pompeii.
Visiting Pompeii and Ercolano
One of the biggest attractions of a holiday on the Amalfi Coast is that it offers the possibility of visiting the two unique and fascinating sites of Pompeii and Herculaneum. Hugging the slopes of Mount Vesuvius they are UNESCO World Heritage sites and two of the most famous ancient sites in the world, frozen in time as they were buried in the molten lava of Vesuvius as it erupted in 79 AD. Ercolano, site of the ancient ruins of Herculaneum was once a beach resort but the eruptions of Vesuvius pushed it away from the coast. As for Pompeii, it is one of the most famous archaeological sites in the world, home to grand villas once owned by wealthy Romans. Wherever you choose to stay on the Amalfi Coast, there are plenty of day trips out to visit these towns and some excellent tour guides, allowing you to make the most of your visit.
Holidays in Praiano
Located between Positano and Amalfi, is the equally charming but less well-known town of Praiano, with its picturesque buildings and exceptional cuisine. It is a lovely, quintessentially Italian fishing village nestling on the hillside, sloping down to the coast. As its name suggests – 'praia' means 'beach' - Praiano is a great place for a laid-back beach holiday. The sunsets over its attractive main beach, Marina di Praia, are legendary! Praiano is easily accessible by either boat or bus and is a great location for a low-key holiday, or as a stop-off on your multi-centre tour of the Amalfi Coast.
Holidays in Ravello
If slowing down, unwinding, and absorbing the Italian way of life is the aim of your Amalfi Coast holiday, then Ravello is the place for you. The gentle ambience, smiling, welcoming locals and lazy evenings will draw you back time and again. Ravello is home to the beautiful, cliff-top Rufolo cascading gardens filled with exotic colours and enjoying panoramic views of the ocean. In the summer months, open-air concerts take place here, which are utterly enchanting and are sure to be a highlight of your holiday. Ravellois also home to one of our favourite restaurants, at the beautiful Hotel Villa Maria.
Holiday in Ischia and Capri
These two beautiful islands are set in the bay of Naples. Capri may be better known, beloved of the rich & famous, but the volcanic island of Ischia is home to some of our favourite hotels. Ischia is less flashy and offers some of Italy's best natural spas. Even on a cloudy day, Ischia is picture-perfect and bursting with colour. on the 17-square mile island. Wherever you choose to stay on the Amalfi Coast, it's well worth spending a day of your holiday taking the hydrofoil to visit the beautiful islands of Ischia and Capri.
Expert Tips from Nadia:
Enjoy the best pizza and cocktails at Fauno's bar in the centre of Sorrento's Piazza Tasso, as you watch the world go by. You should also take a road or boat trip along the stunning Amalfi Coast and stop off for liqueur tasting in Ravello. Limoncello, Meloncello and Crema di Pistachio are some of my favourites from the region. 
If we've tempted you to visit the Amalfi Coast, then our Italian Travel Experts would love to hear from you on 01694 722193 and discuss your holiday requirements or
click here
to request a call back.