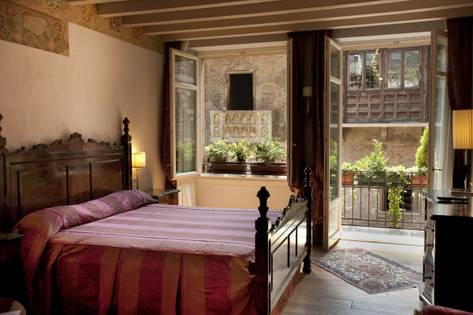 Everyone deserves a treat now & then, so if you want to escape the daily grind and enjoy some well-earned rest & relaxation in one of Italy's most romantic hotels, then look no further…
This is our pick of luxury hotels in Italy which are perfect for two.  Many of them have even won awards for their romantic ambience. So get ready to enjoy beautiful surroundings as you soak up the sun in one of our gorgeous hotels, bursting with character. Pamper yourself in a sumptuous spa, treat yourself to a fabulous meal, or simply take the time to admire the views.
Below are our top 6 choices for the ultimate luxurious romantic hotels in Italy. These stylish escapes have all received awards for their top service and style.
Hotel Bellevue Syrene, Amalfi Coast. This 5* hotel is a real gem, boasting incredible ocean views. It has deservedly won many coveted awards over the years. It is amongst the top 5 in the world for the TripAdvisor Travellers Choice Hotel Awards. It received the Relais & Chateaux Savoir-faire Trophy in 2016 in recognition of the excellent hospitality provided by the staff going way beyond the call of duty to make each stay special. In 2015, the Roccia Suite won the ultimate romantic hotel accolade, being crowned 'Sexiest Bedroom' at the Mr & Mrs Smith Awards.
Borgo Naturalis, Puglia. Those who like their romance to be of the 'green' variety will enjoy this natural alternative, which is the ultimate spot for relaxation. Everything is done with nature in mind at Borgo Naturalis. The ancient blends effortlessly with modern facilities; pale terracotta walls, paintwork lightly washed with grey and green, and oodles of local stone combine to form a sublime picture of rustic luxury. The Naturalis Bio Resort & SPA was awarded the Green Travel Award - GIST Award for excellence in sustainable and responsible tourism. A great alternative blend of luxury and romance.
Monaci Delle Terre Nere, Sicily. This romantic hotel offers a different twist on luxury & romance; a place where rural meets contemporary in great style. It has won many awards including 'greatest hotel 2014' by Travel & Leisure, 'greatest hotel 2015' by Tatler Magazine, and one of the '20 coolest new hotels for 2013' by the Sunday Times. Monaci Delle Terre Nere is the most beautifully incongruous place we have discovered. You will be struck immediately by the stupendous location, seemingly on the edge of the world, with the glorious Mount Etna as its backdrop and a verdant landscape falling away below to the strip of blue sea, in the distance.
Gallery Art Hotel, Florence. The exquisite and luxurious hotel Gallery Hotel Art in Florence sweeps guests off their feet with the clarity of its design. As its name suggests, the Gallery Hotel Art evokes creativity and style. In 2017 it was named '4th best hotel in Italy' by Conde Nast Traveller, one of the 'top 10 design hotels in Florence' by The Telegraph and awarded a Certificate of Excellence by TripAdvisor.
The Gentleman of Verona. Its close proximity to Arena di Verona and Ponte Scaligero makes this charming hotel an excellent choice for any holiday in Verona, which must surely be in the running for Italy's most romantic city. In 2016, it was listed in The Telegraph's 'greatest hotels in the world'. In 2017 it was given a Certificate of Excellence by TripAdvisor and was added to the Michelin Guide.
Ca Sagredo, Venice. Standing majestically on the banks of the Grand Canal, between Ca' D'Oro and the Rialto Bridge, this 15th century Palace has been declared a National Monument and still preserves the untouched beauty of an ancient noble Residence. Its numerous awards include: Love Travel Awards 2017 'Best Wedding Hotel in Europe'; Conde Nast Johansen award for 'Best Hotel for weddings, parties & special events' 2017; Conde Nast Traveller Readers Choice Award, 4th best hotel in Venice, 2016.
If we have inspired you to book a romantic holiday in Italy, please give our Travel Specialists a call on 01694 722193 for some friendly advice and to plan your perfect romantic break.