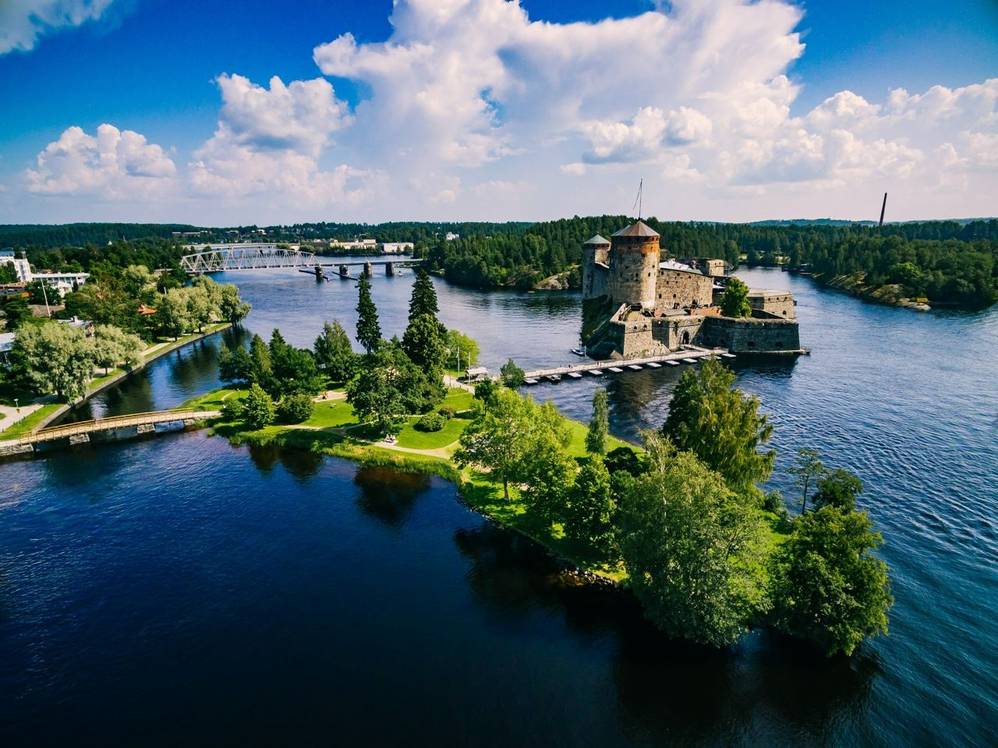 Hotel Punkaharju

Formed by a glacier melting at the end of the Ice Age, Lake Saimaa, the biggest lake in Finland hides some wonderful hidden gems which I encountered whilst on my travels, searching for the best hotels, that I personally felt would meet our clients' needs. It was here during my first visit to Lake Saimaa region that I came across my two favourite hotels.

Hotel Punkaharju is a charming property only metres from the shores of Lake Saimma and 27Km from Savonlinna and is bursting full of character but what is special about it, besides from its fantastic peaceful location and the lakeside sauna is the hotels obsession with mushrooms!

Before I knew it I was whisked away to the local forest, given a wicker basket and was soon rummaging the forest floor, scouring for edible mushrooms. There are so many different types of mushroom its difficult to know which ones are suitable for cooking and which ones are deadly poisonous. Fortunately, our knowledgeable guides were on hand to advise us. I was rather impressed with the mushrooms I have selected and thought that they were so pretty as I stood there admiring them thinking they looked like toad stalls straight out of a fairy-tale. I bent down to pick another one when I was stopped in my tracks "Put them back Andy!' I was warned. I think I was being a bit overly ambitious and had indeed picked the wrong ones. Best leave it to the experts, I thought.

As I headed off further into the forest to find actual edible ones, I was soon reminded of how different the depths of the Finnish forest were compared to England. It really did remind me of something out of a fable, where I imagined elves or pixies to spring out of nowhere. "Don't go too far", I was told, "there could be bears out there!' My thoughts interrupted.

After a thorough handwash and a fresh up, we were soon back at the hotel, where we were served an amazing feast by our talented chef who presented us a three course meal with the starter, the main and yes even the pudding which featured mushroom in some way!

________________________________________________________________________________________________________________________________________________________________________________________________
 Jarvisydan Hotel and Spa
Another fantastic hotel was Jarvisydan Hotel and Spa, located off the beaten track and again on the shores of Lake Saimma, this time 52 miles north of Savonlinna. The hotel had such a rustic feel to it and an old boat is featured in reception and the stern in the bar area. There is a great selection of fantastic accommodation from traditional style rooms in the main hotel, Hillside Villas, Scenery Suites and huts by the lake with a glass roof, perfect for watching the northern lights to a floating houseboat (which of course has its own sauna), this is Finland after all!

The main feature of the hotel is the fantastic spa which guests are allowed free entry to. All of the building material used at the Lake Spa is completely natural using water from Lake Saimaa, natural stone and sunken logs that date back over five centuries. The spa is ecologically heated using geothermal and solar energy and features five saunas – The Stone sauna, Hammam, Steam sauna, Infrared sauna and a Sunken log sauna, as well as six leisure pools and two outdoor pools where the water from Lake Saimaa is the same temperature as the lake.

Once you have revitalised you should not miss out on the excellent Finnish cuisine the hotel has to offer. The menus in their restaurants have been inspired by local culinary specialties where the dishes are served on chips of wood, in pottery bowls and in frizzling iron pans, by open fire and in candlelight, accompanied by music. What more could you want to enhance your revitalising experience before heading back to the fast-paced way of life back home?

One of the mornings we headed off on the hotel's little wooden boats into the misty waters of Lake Saimma to try and catch a glimpse of the rare Saimaa ringed seal. They are among the most endangered seals in the world, having a total population of only about 390 individuals. The only existing population of these seals is found in Lake Saimaa region, (hence the name). They have lived in complete isolation from other ringed seal species for around 9,500 years.

Whilst chatting in the back of the boat with other visitor and admiring the swooping Ospreys as they flew up to their large nests made of sticks, driftwood, turf or seaweed built high into forks of trees and rocky outcrops, there was a cry from one of the guests… 'There's one' as we all looked in the direction she was pointing, poking out of the water, there was a little head bobbing in the gentle waves of the lake, and with such an adorable face it was quite obviously a rare ringed sea!

__________________________________________________________________________________________________________________________________________________________________________________________________
Tertti Manor Farm

If you want to experience something really different in terms of Finnish dining experiences, I would recommend a visit to Tertti Manor Farm, located in Mikkeli.



If walls could speak we would be able to hear incredible stories of the Manor's history dating back to 1540, and in its long history it has been home for such a variety of people; including a dairy school in 1896, to being used by the military in 1918 during WW1 and again in 1939 in the outbreak of WW2. In the post-war period, Tertti was still a traditional farmhouse, with the farm's operations focused mainly on dairy cattle as well as breeding sheep. In 1978 the owners decided to concentrate on tourism and specialised farming. The buildings were eventually renovated with respect to the old traditions of the farm and the garden and immediate surroundings were restored to resemble the landscape at the end of the 19th century.



Today the farmhouse continues to delight customers as a Tertti Manor is a functioning farm, a heaven for gastronomes and is a perfect example of Finnish countryside charm: in the pink wooden main building there is an elegant restaurant, and in the other buildings surrounding an inner courtyard there is a café, a boutique shop and the red wooden building containing five boutique hotel rooms.

__________________________________________________________________________________________________________________________________________________________________________________________________
Teahouse of Wehmais

If tea is your thing then you must not miss a visit to the Teahouse of Wehmais, it is like going back in time to visiting your grandparents in England, but we were in the Saimma Countryside!

When you arrive at Wehmais, you are welcomed by the Grotenfelf family to their farm and taken into the old manor building, the only tearoom in Finland and well specialised in British tea culture. The lovely rooms are elegantly decorated with rose fabrics and flowery wallpaper, when you can relax and enjoy tea menus such as Afternoon Tea, Cream Tea, and Royal Tea.

As you would expect all the baked good are prepared fresh on site and the other organic produce is sourced by local suppliers. With over 100 tea varieties on offer you can even book at tea tasting experience, matching teas with different foods!

Next door is the Wehmais Deli & Decor store where you can buy lovely gifts, including food and all one hundred teas on offer and everything else tea related! You can enjoy the grounds of the manor house also and see the farm animals they have. When I was there they has some really friendly goats. Oh and if you get a chance, make sure to ask Wehmais staff to share some of the local stories with you!

Overall, my visit to Lake Saimma was a fantastic insight into the nature and culture of this beautiful region of Finland, where I met with such friendly people and encountered some incredible experiences I shall never forget.

__________________________________________________________________________________________________________________________________________________________________________________________________