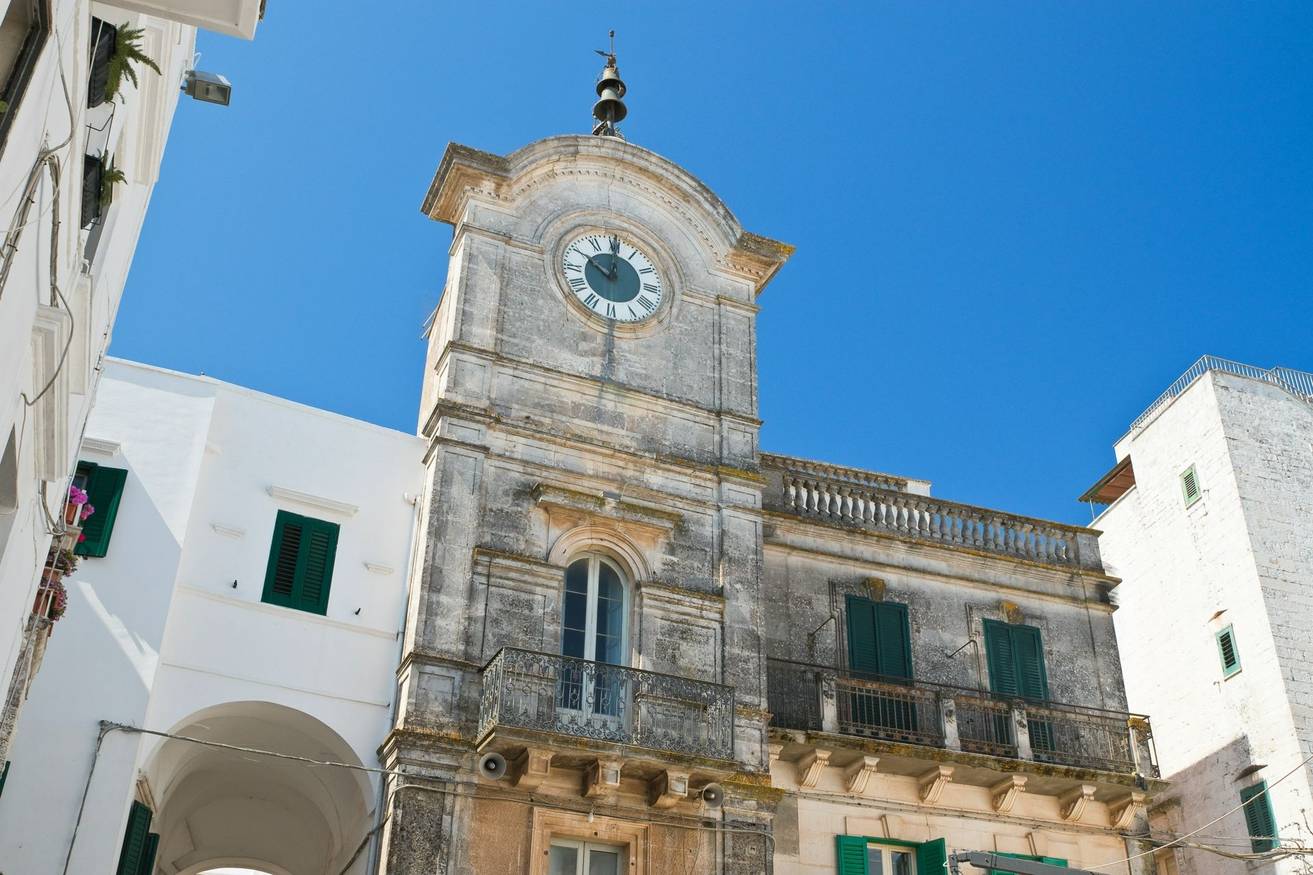 Nestled at the crest of the Valle D'Itria, Cisternino invites all guests and passers-by into its embrace with its unmeasurable views, food, and company.
Wandering through Centro Storico, the main high street running through the town, the significance of its Basilian fathers and their Madonna Odegitria truly comes alight with its natural simplicity. The streets are sheltered with cove-like alleys, picturesque churches with a distinct serenity and white-washed buildings that reflect the basking sun as dusk falls over the surrounding valley. The piazzas expand to the community and locals sit on the steps of the quirky residences that surround this authentic hamlet, gazing and chatting with friends and passers-by as they venture into the quaint side streets. Side streets carry no sense of direction, but the distinct scent of the local cuisines. Barbecuing butchers prepare Bombette, pork shoulder rolled in breadcrumbs and parmesan cheese and cooked in blazing wood fired ovens, and the food of the southern Italian Nonna, Puree di Fave (a combination of Fave beans, potato, and olive oil served with rich earthy greens), a true heart-warming delicacy. In this setting, the ancient minimalism and beauty of Cisternino is profound.

As evening looms, the ancient side streets come alive with locals as they rise from their afternoon siestas and catch up on the day's exploits. Gelateria's, bars and restaurants that are hidden in the light of day by blossoming flowers and drying laundry, engross the sheltered streets as the sun begins to set. All produce is created, sourced and harvested locally giving Cisternino an undeniable authenticity.
 
Leaving the side streets, the town opens onto Via San Quircio to exceptional views of the Valle D'Itria that lies below. Bars are propped at the peak of the town where the soothing breeze of Adriatic flurries by as the sun sets over the greenery of the Salento wine region that rests beyond the embrace of this ancient town.
 
Cisternino offers the perfect retreat from day to day life, serving as a simple reminder to enjoy the small comforts of acknowledging passers-by and taking pleasure in our natural surroundings. Basking in its simplicity, Cisternino takes you to a place of complete solace, to a time of utmost ease within the soul of the Mediterranean.

If we've tempted you to visit Cisternino, than our Italian Travel Specialists would love to hear from you on 01694 722193 and discuss your holiday requirements or click here to request a call back.